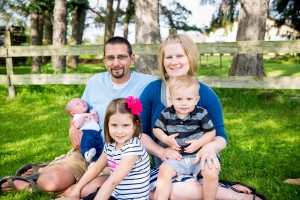 Jimmy Hinton is a native to the Somerset area.  He grew up in Shanksville, where United 93 went down on 9/11.  The Somerset Church of Christ is the congregation he grew up in.  He graduated from Harding University in Searcy, AR in 2001 with a B.A. in Bible and Religion and graduated from Harding School of Theology in Memphis, TN in May of 2007 with a Master of Divinity.  Jimmy is the 2007 recipient of the Jack P. Lewis Ministry of Study Award.  He began preaching at Somerset full time in June of 2009.
Jimmy married Natalie in 2005 and they are the proud parents of Eden and Cameron, with a third on the way!
In addition to preaching full time, Jimmy is the co-founder and CEO of ChurchProtect.org, a non-profit organization equipping churches and other YSOs to protect against child sexual abuse.  He has trained hundreds of people to detect and prevent abuse and has consulted with dozens of churches that either have allegations of abuse arise, or have predators currently attending their congregations.  As the son of a pedophile who had to turn his own father in after allegations of abuse arose, Jimmy is uniquely qualified to assist and train churches on how to prevent, detect, and report abuse.  Church Protect also helps congregations come up with a plan of action, should allegations of abuse arise, and provides churches with a unique Protection Policy when they schedule a seminar.  Jimmy blogs regularly on abuse at jimmyhinton.org.
Phone 814.445.5569